---
User's manual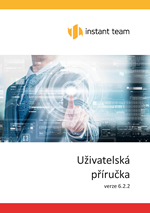 You can download User's Guide for the Instant Team application here. The file is in the Adobe Portable Document format. You will need an Adobe Acrobat Reader to view and/or print the file. If you have not installed it yet,
you can do it from here
.
File size: 12 MB
File name:
instantteamguide_en.pdf
---
System Requirements - Computer
To install and run Instant Team client, you will need a computer satisfying these minimum requirements:
operating system: Microsoft Windows Vista/7/8/8.1/10, Intel based macOS Yosemite/El Capitan/Sierra/Mojave/Catalina or one of the current Linux distributions
processor: Intel Pentium or better
memory: 1 GB RAM or more
disk: 200 MB free or more
System Requirements - Connectivity
In order to use Instant Team Trial and Instant Team Hosted, you need a permanent Internet connection that will not block outgoing TCP connections to port 5370. Alternatively, communication can be tunneled over the standard HTTP protocol that uses only port 80.
If you are unable to connect to an Instant Team server, follow these steps:
Check that your Internet connection is functioning properly (you can try to connect to other Internet services, like a public website).
Check that you have not modified the server address in the login dialog box. It should display hosted.instant-team.com.
Try using the HTTP protocol instead of the default Sockets (you can switch protocols in the Login dialog).
Check that you firewall or proxy does not block outgoing TCP connections to port 5370. Check with your network administrators what is the current policy. Enabling outgoing connections should not open any vulnerability in your network, because incoming connections to the port may remain blocked.
Conctact our support at support@heaven-industries.com to help you with the problem.