Gallery - Screenshots
Gantt chart
Gantt charts clearly show tasks start and finish dates as well as their inter-relationships and resource assignments. They are simple to understand and easy to change. That's why they are a preferred information media for senior managers.
Gantt charts can be displayed in different levels of detail (from days to years) and summary tasks can be collapsed to prevent information clutter. Instant Team supports distribution of large charts to several pages horizontally as well as vertically during printing (tiling).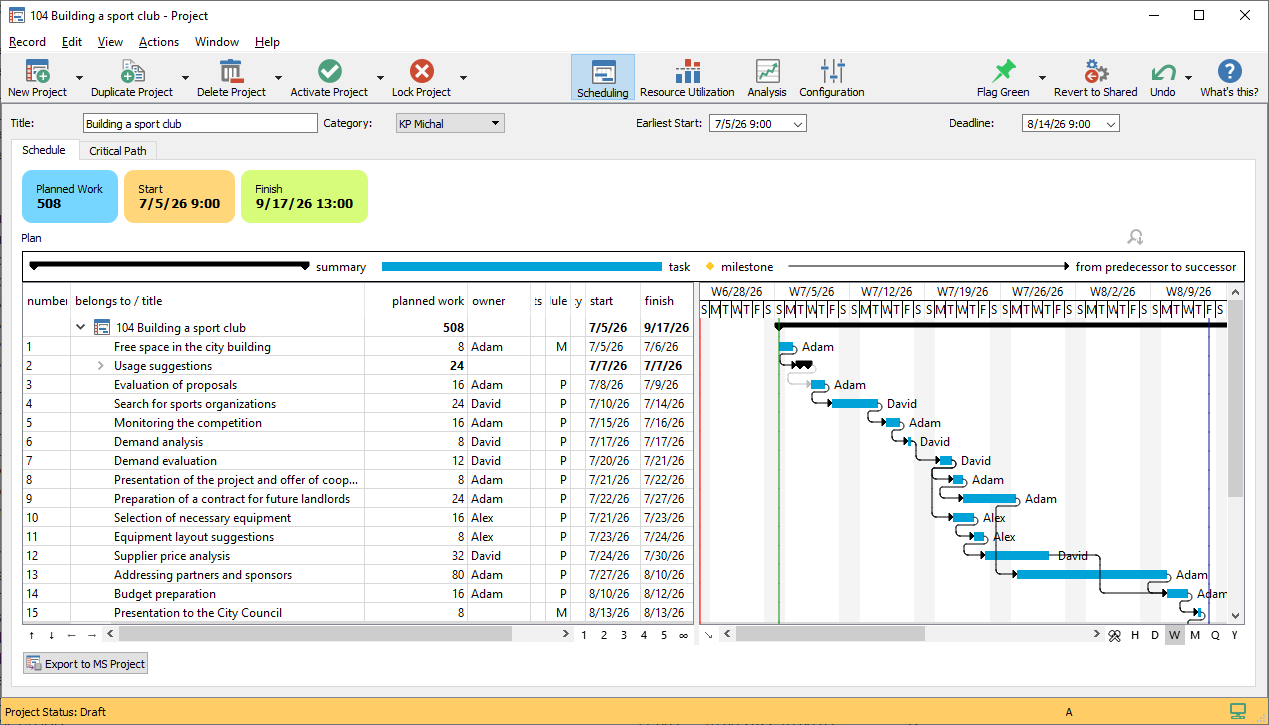 ---
Resource utilization
To obtain an optimum overview of the utilization of individual resources across all projects and to resolve their possible overloading, the Resource Utilization report is split into two parts. The upper report contains the nested Utilization Detail report and the lower report contains the Total Utilization report.
Report Utilization Detail shows resource utilization across projects. Individual planned activities (tasks, meetings and absences) are grouped here by resources for the time period displayed. In addition to a good overview of each resource's utilization, this report allows you to easily see what specific activities these resources should work on within a given period of time.
Report Total Utilization shows resource utilization by tasks, meetings or absences, free resource capacity, and time for which a resource is overloading in the form of a stacked bar graph.
The level of detail can be set to days, weeks, months, quarters or years. Information on any resource can be expanded to show individual resource´s tasks scheduled witin the displayed time interval. For better clarity the individual cells of the table are color highlighted.
To get an optimal overview of resource utilization working on one project, use the Resource utilization tab in the project window.
---
Critical path
The critical path is a sequence of follow-up tasks (critical tasks) in the project such that if they become delayed they will delay the completion of the entire project. But also conversely by reducing the duration of a critical task, we can achieve a decrease in the duration of the whole project.
Therefore, critical path analysis is important to find ways of reducing the end time of a project and to identify the riskiest tasks for the project to succeed.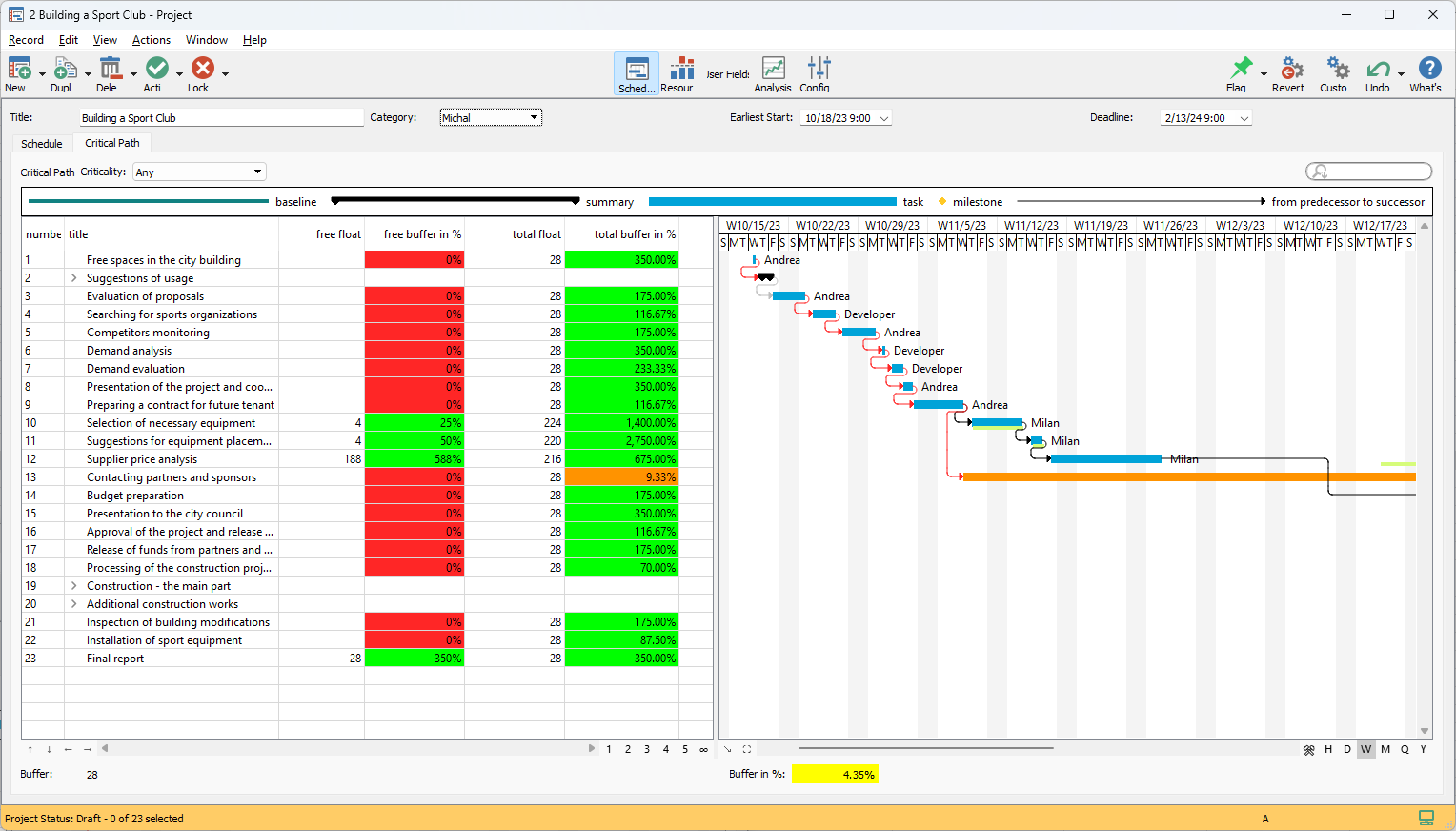 ---
Acceptance and approving tasks
Resource owners have their tasks clearly sorted according to their urgency. New tasks assigned to them are first taken over and then sent for approval after completion.
---
Financial management
Into the Instant Team, you can enter hourly rates for individual project resources or material costs directly by the tasks. Subsequently, the estimated and actual project costs are automatically calculated.
In addition to costs, it is easy to plan and monitor the revenues and profits of individual projects.
Enter the parts by which and on what dates you expect invoicing, and the system will also help you with planning and monitoring cash flow.
In the Instant Team, you can create invoices for individual projects, which can be prepared based on the progress of the project since the last invoicing or can be prepared manually.
---
Calendar
Calendar shows scheduled tasks day by day (in the daily, weekly and monthly views) or month by month (in quarterly and yearly views). Tasks can be filtered by project and resource to ease orientation.
---
Project templates
If you have more similar projects in your portfolio, you can create project templates that you can easily create new projects from. You can then modify the individual project as you wish.
You can also easily create a project template from an existing real project and then refine it further. Knowledge and project methodology sharing between your projects is thus much simpler and you also save a lot of work this way.
You can use 6 pre-built project templates for testing or inspiration.
---
Service management
When you turn on "Service Management" in workgroup settings, users in the role of "Technician" can start to manage requirements and use the product and contract database in the Instant Team.
The most important part of working in the area of Support Management is the timely and effective solution of customer requirements. Instant Team allows you to plan and track technicians' individual steps in the cases realization, evaluate closed cases, or for example create cases from incoming e-mail messages.
Baseline plan
Instant Team allows you to save your actual project plan, planned effort, costs, revenues and profit into an unlimited number of baseline plans that are then available for comparison to the actual plan or to each other.
Graphical comparison is available in the project window as individual dashboard that displays duration, effort, cost, revenues and profit variance and percent incomplete of the project.
A detailed comparison is available in the form of a Gantt chart and overview report for a selected project or for the entire project portfolio.
---
Timesheets
The basic tool for filling in timesheets is to create so called timesheet items, in which you can report work time spent on individual tasks. Each item contains in the title information about what task it belongs to, who is the owner, type of the item, and the time period.
---
Absences planning
Instant Team contains a report for planning absence of resources (such as vacations or illness) that helps to plan resource utilization. Resource owners can create requests that can be further approved.
---
Customer relationship management
When you turn on "Customer Relationship Management" in workgroup settings, users in the role of "Salesperson" can start to manage accounts, contacts, leads and business opportunities in Instant Team.
---
Developing opportunities
The successful realization of business opportunities, such as getting a new customer, offering additional services or extending cooperation with existing customers, forms the basis of Customer Relationship Management activities. Instant Team allows you to track and evaluate the number, status and financial volume of business cases and their individual steps for the selected time period.
---
Account and contact management
Keeping an up-to-date and comprehensive database of accounts that you deal with as well as the contacts whitin them and communication with them is an integral part of customer relationship management.
---
Appointments
Instant Team also allows sending meeting invitations, including recording the participants' responses.
Meeting organizer, resp. the project leader to whom the meeting relates may publish the agenda of the scheduled meeting.
For each appointment, the organizers can enter a program and record the minutes of the finished meeting in the form of points with information about the progress and results of the meeting.
The tasks resulting from the meeting can be tracked among other tasks and during subsequent meeting it is easy to check their fulfillment.