What the Instant Team can do
Do you dream of a perfect organization of work? That everyone will know what to do, no one will miss the deadline, and all follow-up activities will be updated when one of the workers needs more time or gets sick? It doesn't all have to be a dream. We have just summarized some of the features of the Instant Team. And it can do even more!
Track tasks in real time and plan efficiently
Schedule your entire work in a tree structure. You can assign a resource, start and end dates to tasks, and estimate effort. Build relationships so everyone knows what to do. Currently and in the future, up to a year in advance.
In addition, the leader can monitor how the people on the team are doing. He approves completed tasks, sees if any resources are overloaded, or if any of the staff does not jeopardize the deadline by not catching up. This will save you time, there will be no misunderstandings and the work will be clearer to everyone immediately.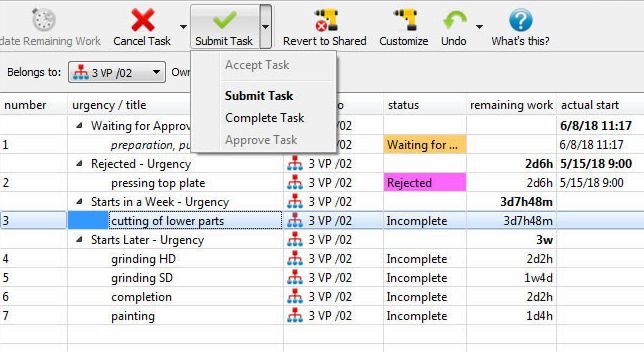 Take over and approve tasks
Employees have tasks clearly arranged according to how important they are. They have to take over new tasks and, when completed, can send them back to project managers or owners for approval.
Track changes or be alerted to them
You no longer have to remember and manually record changes. You will find a function in the system called Log. A simple table shows you what an employee has changed in the record. History is also accessible. The system will
highlight in bolt new and changed tasks
, projects and records that you have not seen before. And if you want, it will send you an e-mail about any changes, which also contains a log file.
Analyze and view everything you need
Lovers of statistics and analysis will be thrilled. In Instant Team, you can create reports that create the estimated utilization of departments and employees, progress, reported project work, and other necessary data. You can sort the reports by parameters. View details and summaries, change periods, and view records.
---
Share documents, communication and calendar
No one will be late for the meeting and will not chase you for materials. Project teams can
schedule meetings
together, share documents, minutes or outputs with each other. Instant Team will also help you
arrange a meeting and categorize documents
.
Work in accordance with the protection of personal data
Protection of personal data is a big issue. Instant Team complies with all requirements and recommendations
according to GDPR
. At the same time, it will offer you all the tools for repairing, supplementing and disposing of personal data. And your data is safe.
Keep track of vacations and absences
It will no longer happen that you will count on a colleague who has just approved vacation or is in training. The system counts with tasks, holidays or appointments and shows you a collision. In addition, it automatically recalculates when one of your colleagues is ill. This feature is the next step to your clear head. Employees create vacation or training requests and you can only approve them.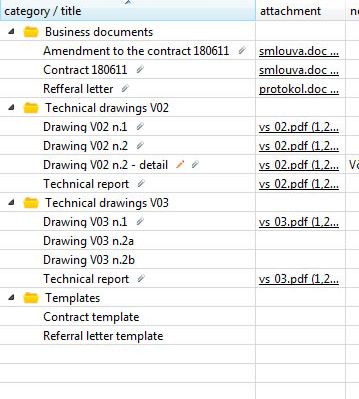 ---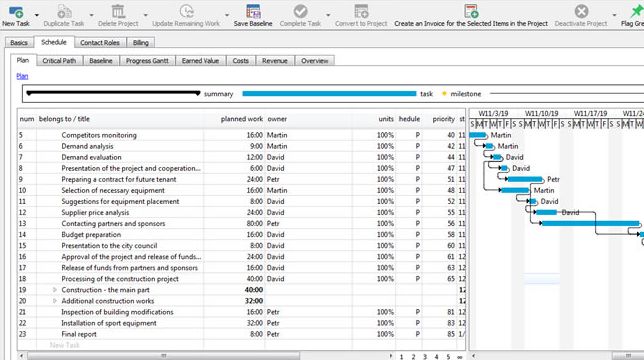 Make the project plan clearer with a Gantt chart
A popular feature of all teams is a matter of course for Instant Team. A clear Gantt chart shows
the current project plan
. Its beginning and end, even with the relationships between tasks and to whom they are assigned. You can create a relationship between tasks and change scheduled dates directly in the chart.
Don't miss any appointment or task
You no longer have to look after the employees yourself. The system itself will inform you that someone has not met the deadline. In addition, it notifies you of task rejections and completions, takeovers, completed tasks, and schedule conflicts. And if someone invites you to a meeting, it can send you an email.
Don't miss the key parts of the tasks
It is clear that you want to complete the key parts of the project on time. Instant Team notifies you of free reserves and graphically displays its critical path. You will not miss the opportunity to shorten the project and you can also focus on the tasks that are most important for the project.
---
Custom template for each project
Each project you work on can have its own project template. You can customize it and share knowledge and project methodology between projects. It will save you a lot of work!
Check work capacity
Instant Team will check for you if you have not exceeded the capacity of the resources. Even those to whom you did not assign work directly. This means that when you assign a task to a department that needs a task from another department to do its job, you know when employees have time. Instant Team also controls the overall capacity of the department group and staff utilization across all projects.
Support management and maintenance assistant
Technicians can manage requirements in Instant Team and use products and contracts in a clear database. Task scheduling will be a great tool for efficiency. You can also create templates and requirements here.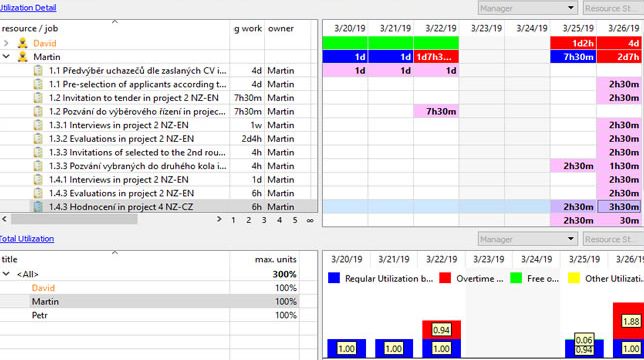 ---
Set the working hours so that they are based on your projects
An unlimited number of calendars with working days and daily working hours will not only be clear, but also
effective for planning working hours
. You assign calendars to your employees, who will assign tasks to them so that they do not intersect and so that employees have time for them.
Connect and integrate what you need
You can export reports in various formats. These include HTML exports, Atom, LDIF/LDAP, CSV, SQL or iCalendar. You can create these imports and exports manually or on a scheduled basis and send them by e-mail or share them on the web.
Plan projects according to standards
Set the project type to production and use the standards for the number of pieces or the standards for a given time. This will give you a
better overview of labor and standards
. You can also use the piece plan of the project and modify the standards continuously, or compare them with the work actually performed.
---
Keep costs under control
Enter the hourly staff rate or material costs into the Instant Team. The system automatically calculates your estimated and actual costs so you can
track revenue and profit
. Enter the parts by which and on what dates you expect invoicing, and the system will also help you with planning and monitoring
cash flow
. You will create invoices for projects, you can track received invoices, receivables and payables.
Use reports to track the time people spend on tasks
Employees certainly know how much time they can spend on tasks. Using the system, however, they can
report this time with the help of built-in stopwatches
. They can also report time of meetings and absences. Managers thus have an overview of the costs and status of tasks.
Have an absolute overview of plans, costs and profits
Instant Team gives you an overview of effort, cost, revenue and profit estimates. In addition, it
compares them with the current plan
or with each other. You will miss nothing thanks to the diagram and graphic alarm clocks, which will also show you when some plans do not fit reality.
Keep track of customer opportunities
Sales persons can turn on a feature that records their companies, contacts, leads, business opportunities and invoices. The function includes
forecasting trades
and unifying business activities for a better overview. The integration of e-mail communication, in turn, reminds sales persons what they have negotiated with customers.